Located in Frisco, Tx. Next Step Dance was founded by Award Winning Choreographer and Director Michelle Stafford in 2008. Our goal at Next Step Dance is to be an integral part of helping produce young dancers strong in mind, body and spirit.
___________________________________________________________
WE DO!
If you have been looking for a great activity for your children that is not only physical, but is a WHOLE body experience (mind, body and soul) - then Next Step Dance is the perfect fit.

We have classes that cover all dance disciplines! We have Ballet, Tap, Jazz, Lyrical, Contemporary, Hip Hop and the list goes on. We have an extensive schedule of classes that fits almost all schedules. AND - if you need a class that does not fit into your busy schedule - we have individual taught lessons as well.

In addition - if you would like an adult class for YOU - we have wonderful Hip Hop, Ballet and Yoga classes available (child care is offered as well).
JUST OUT!
SUMMER 2013 SCHEDULE!

Summer 2013 starts July 1st - but you can register now! No registration fees.
For pricing click here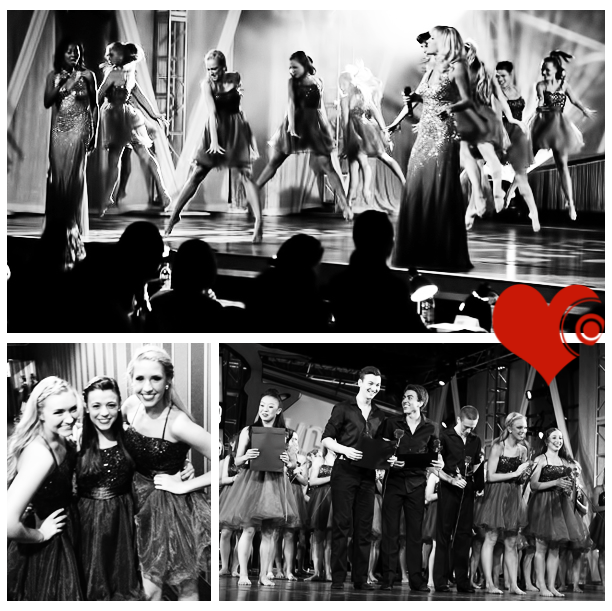 Next Step Dance Performing Arts studio alone has been awarded over $500,000 in colleges scholarships in the past two years including two four-year full ride scholarships.
This amazing organization is changing lives.
Please consider a 2013 donation or a monthly donation - something as little as $5-$10 a month makes a big difference in our dancers' lives.





Help make a difference in a
deserving dancer's life
by making a tax deductible donation for the
NYCDA Scholarship foundation by

Email:
office@nextstepdance.net
or stop by the studio for information
on how to help out this worthy cause.

NYC Dance Alliance Foundation
is an IRS approved 501(c)(3) public charity.
Your donation is fully tax deductible.

Save Money And Support NYCDA Foundation
Every Month

Next Step Dance has raised thousands of $$ for the NYCDA College Scholarship Foundation!

NOW, we can help NYCDA raise even more money by saving on something we already use and everyone needs - electricity!
Ambit Energy, our partner in this fundraising effort,
Makes it easy to switch, save, and raise money for
NYCDA Foundation !


And by helping family, friends, and businesses save too, NYCDA reaps up to 15x the rewards and helps even more kids live their dreams!!

When customers switch their service to Ambit Energy:
Residential rates as low as 8.9c/ kWh and commercial as low as .051c/kWh


There is no cost to switch
Enjoy guaranteed savings
Receive a free 3 day/2 night hotel stay just for trying Ambit service
Monthly travel reward points
To sign up today, visit www.nycdafoundation.joinambit.com

Or Contact: Michelle Gifford
mgiffordtx-ambit@yahoo.com


Deborah Abrams teaches Adult Yoga for all levels on Mondays at 8:30 AM and
Tuesday and Thursday at 10 AM

Dayna Meixell teaches Adult Ballet on
Wednesdays at 10 AM
_________________________________________________
We now offer childcare during our morning adult classes. Just contact the studio a week in advance to schedule. The cost is $5 per child per session.
________________________________________________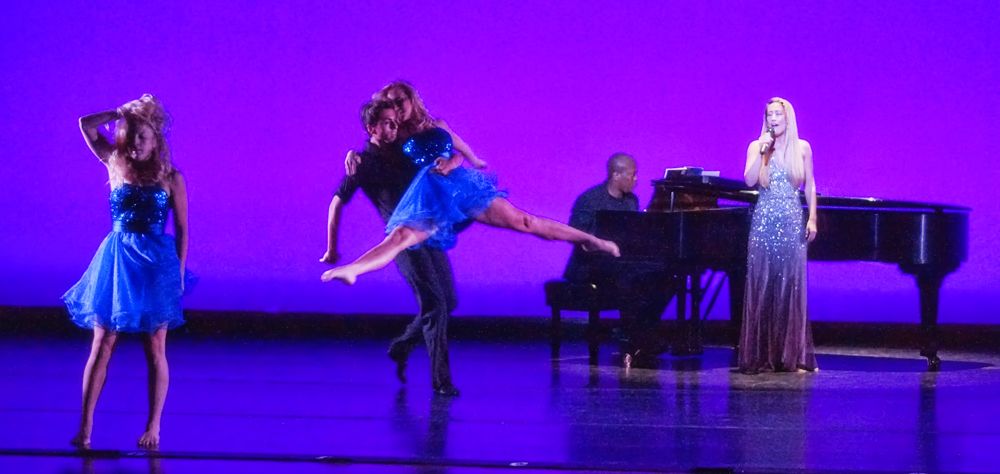 Nick Gomez and Montana Michniak dance at the NYCDA Bright Nights Shining Stars Gala
Joe Lanteri MC's the Bright Lights Shining Stars Gala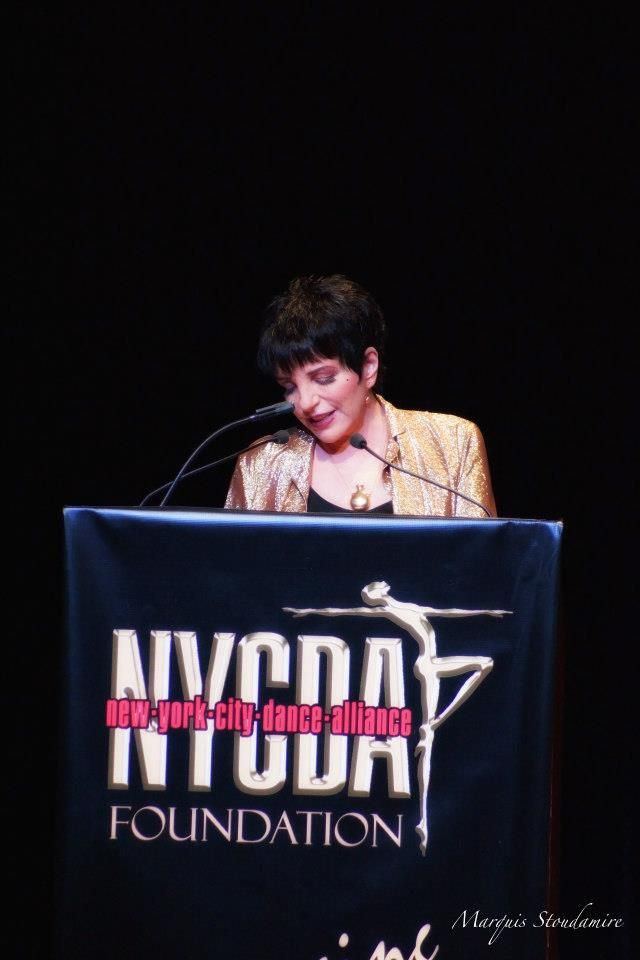 Recipient of the NYCDAF
AMBASSADOR FOR THE ARTS AWARD
presented by
Liza Minnelli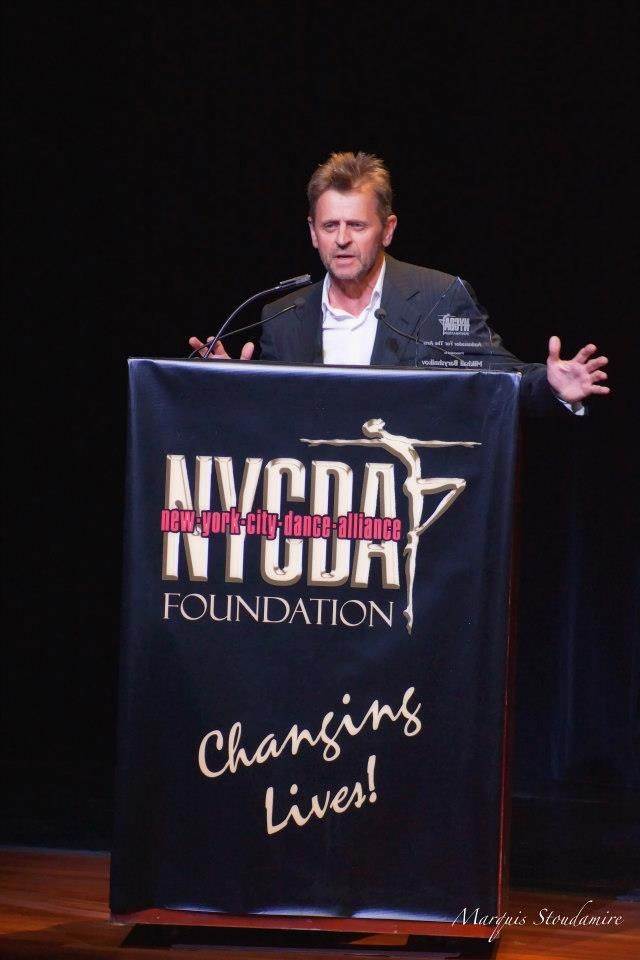 2012 GUEST OF HONOR:
Bright Lights Shining Stars was a Star-Studded evening of song and dance to Benefit the NYC Dance Alliance College Scholarship Foundation. Montana Michniak and & Nick Gomez were guest performers at the star-studded event. The foundation is dedicated to promoting education and investing in the next gerneration of professional artists, by offering scholarships for secondary and college education. Iconic, Mikhail Baryshnikov was awarded the "Ambassador For the Arts" Award. We were all humbled by the incredible support and ongoing generious gifts from the NYCDAF. It demostrates that we collectively recogonize the need to both promote and invest in the educations of young artists.
From Left to Right: Barb Michniak, Montana Michniak, Joe Lanteri, Nick Gomez and Reilly Johannsen
During our visit to NYC, Reilly Johannsen & Montana Michniak also auditioned for College Scholarship monies through NYCDAF. We are proud to announce that Reilly Johannsen was awarded $5000 to use at the college of her choice and Montana Michniak was awarded $10,000 to use towards the college of her choice.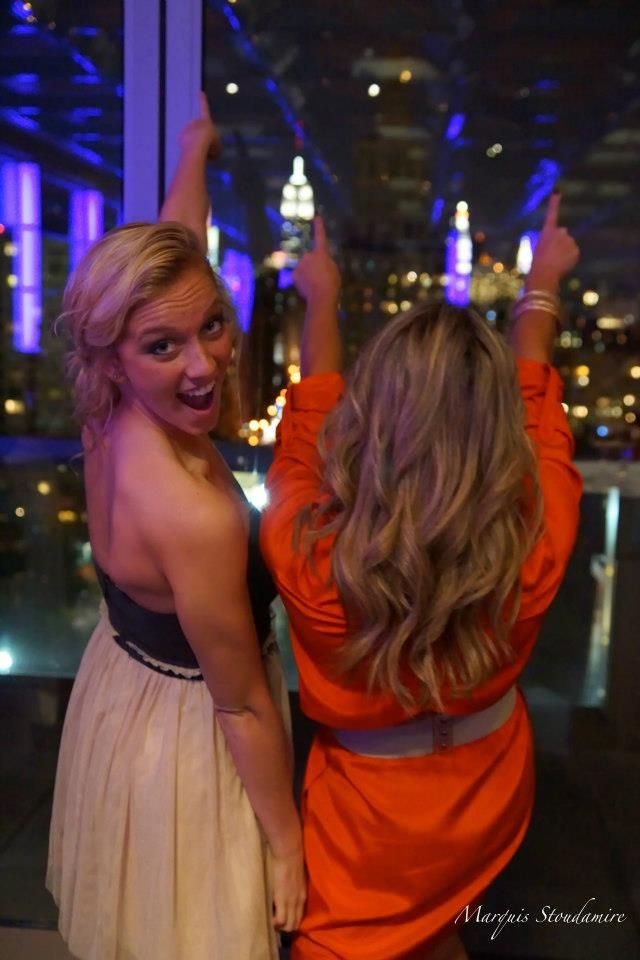 Quote from Montana Michniak about this life-changing experience::
"NYC was a very refreshing experience. Seeing old friends, rehearsing for hours, and dancing my heart out. Each time I dance I feel so blessed for every opportunity that it's brough into my life. My dreams are quickly becoming reality as the summer's rewards continue to unravel. I owe my heart, respect, life and thanks to this amazing art form. It is truly mind opening and has been life changing. Thank you so very much to everyone who has participated in my dream thus far in my life."
New York City Dance Alliance (NYCDA) Nationals continues to be an experience of a lifetime for our dancers. The incredible opportunities and unique experiences from Broadway show auditions, TV show auditions, college auditions, college scholarships, Ailey Workshop, Radio City auditions, master classes, Outstanding Dancer Program.

The National Championship includes the best dancers from across the United States, Canada and abroad. We are so very proud of each and every one of your dancers.

Examples of some exciting things that happened:
Our Mini's group dance "Cooties" made it to the final Mini/Junior Gala.
Our Mini Tap Trio won 4th overall in the finals.
Our Junior Jazz & Tap Trios won 1st & 4th overall.
Our Junior Jazz Line Dance "No Can Do" made it to final Mini Jr Gala
Our Teen Lyrical Duet won 2nd overall in the finals.
Teen Tap Trio won 7th overall in the finals.
Our Senior Tap Trio won first overall in the finals &
our Senior Lyrical Trio won 3rd overall in the finals.

We had several dancers from every age group make it to the top 15 and above in the Outstanding Dancer Program.


Including: Tea Devereaux, Paisley Norburg, Jayce Appleton, Rebecca Troyak, Montana Michniak & Nick Gomez.

It boiled down to a little over 100 OD's in each age group. All this doesn't include the Choreography Awards, Costume & Showmanship Awards.

The four hour college scholarship audition offered to all dancers who just completed their Junior and Senior Year in high school; included University of the Arts, Point Park University, Marymount University & Mercyhurst College.

We are proud to announce that Nick Gomez was offered $10,000 per year for 4 years of college scholarship money from Point Park University and University of the Arts.

Montana Michniak was offered $10,000 per year for 4 years to Marymount Manhattan, University of the Arts & Mercyhurst. Montana was also awarded a 4 year full ride College Scholarship to Point Park University.

This doesn't include the NYCDA College Scholarship offers that each of them will be able to audition for at the "Bright Lights Shining Stars" Gala on September 5, 2012.

So far the talley for college scholarships not including what might happen on September 5, 2012 for the past two years for our students adds up to over $400,000. Not including Cody Berkeley's 4 year full ride in 2011 and Montana Michniak's 4 year full ride this year.

Way to go NSD!!!!!
Montana Michniak hugs Joe Lanteri from NYCDA after receiving a full 4-year ride scholarship to Point Park University
NYCDA Scholarship Foundation has made such a difference to many of our NSD dancers. Please consider giving to this most worthy of causes to help out talented dancers reach their dreams.

Next Step Dance has once again raised a significant amount for the NYCDA Scholarship Program. NSD came in 2nd this year with our donations and more are coming in daily. Please consider a monthly donation - something as little as $5-$10 a month makes a big difference in our dancers' lives.
Next Step Drill Company ARE
the Showtime International 2011 National Champions!
_____________________________________________________________

The Next Step Dance Drill Company is a talented group of dancers that aspire to be on a competitive dance/drill team. The Drill Company is directed by Jennifer Contreras and assisted by Michael Sharp. Drill Company members are required to take five to eight hours a week of mandatory classes and rehearsals. The company members excel in precision based forms of jazz, pom, kick, military, hip hop, musical theatre, and modern.
There are 4 teams divided by grade levels (Elementary K-3rd, Intermediate 4th-6th, Junior 7th-9th, Senior 10th-12th)
Next Step Dance Junior Texas Legend's Dancers!
Next Step Dance's Junior Texas Legend's Dancers were the hit of the show at the Texas Legend's Home Game Opener! These dancers participate in a "Junior Texas Legends Dance Class" on Thursday evenings from 6-7pm. They dance at a few of the Texas Legends Home games as well as some community appearances.
Registration is open to all students from ages 6-10 years of age.


The Texas Legends Dancers are really bringing their A-game this year.
"Dance Team - at almost 20 strong, you have assembled an NBA quality
squad. Their routines were crisp and when combined with their ability to
interact with the fans they hit it out of the park." - NBA Front Office Personnel

Here is a great video from some of their latest performances!